Follow @frozenroyalty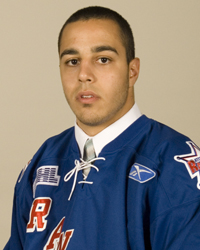 EL SEGUNDO, CA — Did you know that the leading scorer in the Ontario Hockey League for the 2007-08 season was not Steven Stamkos, the consensus top prospect and first overall selection in the 2008 National Hockey League Entry Draft?
In fact, Stamkos was a fairly distant fifth in overall scoring in the OHL.
So what happened to the leading scorer, who finished the season with 43 goals and 81 assists for 124 points with 69 penalty minutes in 67 games?
On draft weekend last June, he waited.
And waited.
Finally, late on day two of the 2008 draft, center Justin Azevedo of the 2007-08 OHL champion Kitchener Rangers got the call he was waiting for all his life….he was selected in the sixth round, 153rd overall, by an NHL club…
…The Los Angeles Kings.
Why was Azevedo a late-round selection, not to mention going undrafted since 2006, his first year of eligibility for the NHL draft?
In a word, size.
To be sure, Azevedo has a huge challenge ahead of him if he ever hopes to make it to the NHL simply because he is a small 5-7, 183-pound wisp of a forward.
"I guess it's the size factor, it's something I can't change," said Azevedo. "The only thing I can take care of what I do on the ice. If I perform then everything will fall into place."
Indeed, Azevedo's chances are certainly not in his favor. Nevertheless, he has heard this all before and is not discouraged by any means.
"I don't think I'm too small," said Azevedo. "It's just going to take hard work to get here. I have to train hard and work hard. Hopefully, it'll happen."
At 183 pounds, Azevedo is not slim and wiry for his height, but do not expect him to be able to bulk up a lot more without adversely affecting his speed and quickness.
"I don't know if I want to get much bigger," he said. "I would like to get stronger, but I'm just going to have to work at that this summer."
As far as NHL amateur scouts were concerned, Azevedo flew completely under the radar the previous two seasons, which he characterized as poor ones. But he emerged in a big way this past year with a breakout season, finally catching the eyes of the scouts.
"I don't think I had that great of a season in my draft year, but I think my size did play a factor," Azevedo explained. "This past year, I really elevated my game. I knew I had to come in and lead the team to a championship and with the help of the guys I had playing with me, they all helped out a lot."
"It was my fourth year in the league," Azevedo elaborated. "I knew I was a veteran player on the team. It's just what a veteran player does—step up and play a major role and be a huge factor on the team."
Azevedo credited his coach at Kitchener for his improvement.
"My major junior coach, Peter DeBoer, who's in Florida now, he's taught me a lot, just with puck protection, using my body and what not," said Azevedo. "Even minor hockey coaches have pushed me to be the best that I can be. It's paid off so far."
This summer, Azevedo worked with the Kings' coaching staff at their annual Development Camp in July to learn what he needs to do to improve.
"They told me things that I'm good at, to keep going and excel at them, he said. "I do need to work on some things, so when I go back home this summer, that's what I'm going to do."
"When I get a puck in the zone, I need to work on my shifty-ness and being able to slow down the play, he added. "I think everything could use some work. I don't think anything can be good enough."
Azevedo certainly has a lot of work ahead of him if he wants his dream to come true. After all, with NHL players getting bigger, stronger and faster seemingly every season, Azevedo's chances of succeeding at the NHL level are extremely slim.
But there certainly are exceptions, as there are some smallish players who have succeeded in the NHL.
"You have Martin St. Louis, you have Brian Gionta," said Azevedo. "Maybe I can be another one."
Kings fans can add forward Michael Cammalleri, now with the Calgary Flames, to that list, although he is not nearly as accomplished as either St. Louis or Gionta at this point in his career.
"All the doubters—people who said I couldn't do it—I just want to prove to everyone that I can play at a higher level and that I can do the same things a six-foot player can do," Azevedo exclaimed. "I just used my hockey sense and my vision and I think it paid off."
"I'm just going to come in, work hard, try and prove a point and go from there."
Photo courtesy Kitchener Rangers.
---
Frozen Royalty by Gann Matsuda is licensed under a Creative Commons Attribution-NonCommercial-NoDerivs 3.0 Unported License. You may copy, distribute and/or transmit any story or audio content published on this site under the terms of this license, but only if proper attribution is indicated. The full name of the author and a link back to the original article on this site are required. Photographs, graphic images, and other content not specified are subject to additional restrictions. Additional information is available at: Frozen Royalty – Licensing and Copyright Information.